Hi everyone- Christmas is in a week.  I started baking this week and getting ready for baby girl to arrive home from college on Friday evening.  My sister flies out Sunday night from Knoxville.  We are going to the Nutcracker with my husband's family on Saturday. Let me just say it is hard to "promote" the Nutcracker to tween/teen boys. On Sunday my daughter and I are hosting our 7th annual ornament exchange. The girls are now juniors in college and it is a wonderful tradition for the moms and the daughters.  And, Friday night I am attending a neighbor's naughty or nice party. Each guest brings  a gift that is either nice or naughty.  I'm more the nice and let's just say my Crate & Barrel gift was a hit last year.

So this week we are not hosting a Friday Favorites party because next week is Christmas!  This week we are showing off our favorite features.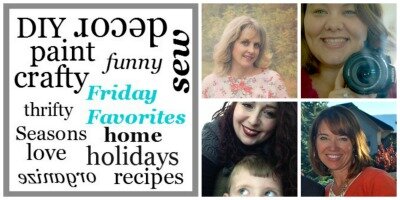 Here's a link for a $25.00 Paypal Cash giveaway this week, shamelessly promoting our family owned med device business (manufacturing in the US)! Entries are LOW! here:

Here are some of my favorites this week:
BONNIE AT OUR SECOND HAND HOUSE  shows off these adorable DIY plaid reindeer:
BACKWOOD BABIES linked up a post on how to detect a girl dad
HEATHER AT WOODS OF BELL TREES posted a wood shim Christmas tree. I love it!
HER TOOL BELT linked up this great tablescape. I love the stained board!

Happy Holidays and we will be back for the party on January 9th with a giveaway opportunity!