the power of paint & a budget
Here's a photo of our dining room that best illustrates how color changes everything. This paint color was chosen ten years ago. It was the mid 200o's and walls were Tuscany, dark, muted and cozy. No wonder I was five pounds heavier ten years ago. These paint colors make me want to bake anything with chocolate and wear sweats. I loved these colors this ten years ago. Our painters suggested dark ceilings and at the time I couldn't wrap my head around it but it was the best decision. I still remember calling a friend to run down to my house to look at my ceilings- thinking I had just agreed to a really bad idea. She calmed me down and I never looked back! I just needed a sounding board!

But three years ago I was ready to brighten up the dining room. And, boy did I brighten things up. Keep reading or scrolling. How is it that the idea of painting one small guest bath leads to new paint in the three adjacent rooms, updated window treatments and new lighting? And, it all started with a $35.00 can of paint. Here's a brighter image of the dining room (same paint color as above). This is what good lighting does for our rooms and our faces! The image above was the early days of my blog. Notice the chair turned coat rack. Notice the wall with the mirror ….

Then a new color of paint. I first posted this new paint color project here. It's a little bright and is a great example of going too far on the color wheel. I loved this color, because of the contrast from the previous color, I picked it for my office and main floor guest bath. If you look at the entrance to the kitchen on the left in this photo.. that is the future color I chose for this same space. I did make some changes I love; we replaced the shutters with lighter window curtain panels I found HERE. My sister and I painted the hutch last summer when she was in Denver for a visit. I wrote about our experience with chalk paint HERE.

In this photo the color photographs much lighter but if you look towards the baseboards I quickly painted the space before I switched the cabinets for this space.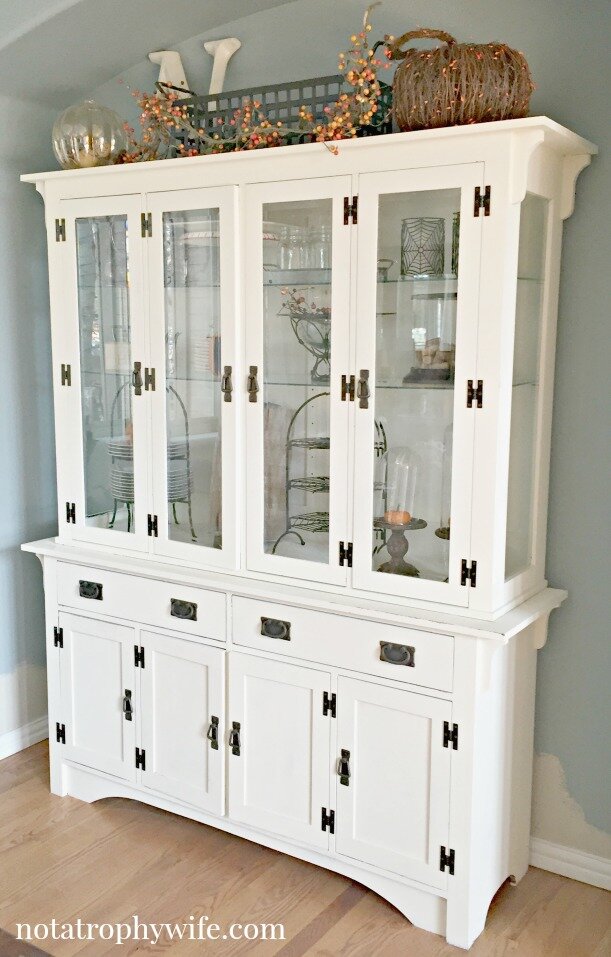 Here is my dining room now! I painted it this spring when the snow was not done with Colorado. This Benjamin Moore color needs no introduction. Ceiling and wall colors at the end of this post. Here's our newly painted dining room. I found an unbelievable deal on the dining room chairs after searching for a zucchini spiralizer and shared that story HERE. I love this room!

Window Treatments / Lighting / Seating / Pillow Covers / Clock (garage sale)
And if that's not enough change we knocked out half of the wall between the dining room and kitchen (see first photo above). The ongoing details for this project start HERE.

Ceiling: Marscapone & Walls: Revere Pewter



linking to: DIY by DESIGN 3 Little Greenwoods Poofing the Pillows DIY Showoff Sarah Celebrates